Introduction
Artificial Intelligence is a skill of the future. Studying artificial intelligence opens a world of opportunities. At a basic level, you'll better understand the systems and tools that you interact with on a daily basis. Artificial intelligence (AI) is a wide-ranging tool that enables people to rethink how we integrate information, analyze data, and use the resulting insights to improve decision making and already it is transforming every walk of life. It's vital that students have an understanding of some of the major tech tools that will impact the future since Artificial Intelligence is in top ten Skills in demand in today's world. From start-ups to multinational giants, everyone is moving towards AI-based solutions, so it is imperative to all the students, professionals to have an introduction to this important subject. In this course you will get introduced to the topic of Artificial Intelligence, understand the applications in real life and tools & techniques..
Program Benefits
Artificial intelligence is a technology that is already impacting how users interact with, and are affected by the Internet. In the near future, its impact is likely to only continue to grow.
Some of the benefits of learning this introductory module on AI are as follows:
Learn how to analyze large amounts of data to bring out insights , which are useful in making faster decisions.
This professional program provides the foundation knowledge in the principles and technologies that underlie AI including logic, knowledge representation, probabilistic models, and machine learning.
Become part of one of the most in-demand career in the world today
What you learn
Artificial Intelligence - Overview
Artificial Intelligence-Applications
Artificial Intelligence Systems & Types
Artificial Intelligence-Tools & Techniques
Artificial Intelligence-Pros & Cons
Artificial Intelligence-Agents & Environments
Artificial Intelligence-India & Global
Artificial Intelligence-Medicines / Healthcare
How program runs
You can join the program at any time and can access all content for 60 days. Upon enrollent, you will be able to see all modules of the program. For each module, the study material is provided in three formats, (a) presentation (b) text (c ) video lecture . Along with reading material, there is a self evaluation quiz for each module. After 30 days from the enrollement test, you are eligible to give online certification exam, normally of one hour duration. You require to get minimum 50 % to complete the program successfully. Successful candidates can download e-certificate. Candidates scoring less then 50 % or not able to appear within 60 days from the date of enrollment, can appear after paying nominal re-exam fees.
About the faculty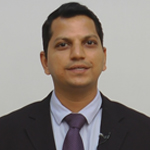 Suresh Jain is a business man who started in Mumbai and in a short period has expanded his business to the five metros of India. An MBA in Finance from Somaiya, spent over a decade in the the investment banking sector. A Passionate teacher an avid reader and a globe trotter.
Salient Features
Learning material developed by subject matter experts
Entire program divided into number of modules
Learning resources for each module is available in multiple formats of Text , presenation as well as video lecture from the expert faculty
Every module has quiz for practice and self-evalution
Certification exams through online mode
Certification
Learners scoring minimum 50% or above, get e-certificate for the program from Skill Academy.
Pay Now