The World today, is fast paced and financial processes at the cutting edge of applied technologies. "Digital Banking" may have different meanings for different people. A Digital Bank is built with a vision to reach out customers through Digital Augmentation.
How program runs
You can join the program at any time and can access all content for 60 days. Upon enrollent, you will be able to see all modules of the program. For each module, the study material is provided in three formats, (a) presentation (b) text (c ) video lecture. Along with reading material, there is a self evaluation quiz for each module. After 30 days from the enrollement test, you are eligible to give online certification exam, normally of one hour duration. You require to get minimum 50% to complete the program successfully. Successful candidates can download e-certificate. Candidates scoring less then 50% or not able to appear within 60 days from the date of enrollment, can appear after paying nominal re-exam fees.
About the faculty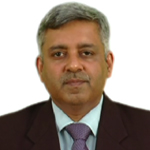 Mr. Lalit Poppli has Master Degree of MBA - General Administration from Indo German Training Centre. Eperienced Head Of Information Technology with a demonstrated history of working in the financial services industry. Skilled in Retail, Sales, Customer Relationship Management (CRM), Asset Management, and Business Transformation.