Introduction
Behavioural finance is a new and exciting area in economics that combines the psychology of human behaviour with the traditional theories of finance and economics. The result is a new explanation of how modern economies work, such as how markets are affected by the behaviour of investors. It is the study of these and dozens of other financial decision-making errors that can be avoided if we are familiar with the biases that cause them. In this course, we examine these predictable errors and discover where we are most susceptible to them. This course is intended to guide participants towards better financial choices. Learn how to improve your spending, saving, and investing decisions for the future.
Program Benefits
Behavioral Finance is the study of the influence of psychology on the behavior of investors or financial analysts. It focuses on the fact that investors are not always rational, have limits to their self-control, and are influenced by their own biases.
As a finance or banking or Investment executive, knowledge of theory of Behavioral Finance will help you to avoid emotion-driven speculation leading to losses, and thus devise an appropriate wealth management strategy.
What you learn
Introduction To Behavioural Finance
Functioning of Human Brain
Key Concepts
Behavioural Cycles
Behavioural Finance Applications
Behavioural Economics
Behavioural Approach To Financial Anomalies
How program runs
You can join the program at any time and can access all content for 60 days. Upon enrollent, you will be able to see all modules of the program. For each module, the study material is provided in three formats, (a) presentation (b) text (c ) video lecture . Along with reading material, there is a self evaluation quiz for each module. After 30 days from the enrollement test, you are eligible to give online certification exam , normally of one hour duration. You require to get minimum 50 % to complete the program successfully. Successful candidates can download e-certificate . Candidates scoring less then 50 % or not able to appear within 60 days from the date of enrollment, can appear after paying nominal re-exam fees.
About the faculty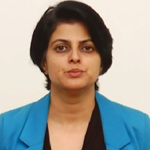 Tara Singh has a Masters Degree of Science, Finance and Financial Management Services. Being passionate about training and after spending about 2 decades in the corporate industry with various well known clients across sectors she decided to pursue her passion. Her stint with these corporates has been in areas covering Sales, Marketing Strategy & Business Communications. She has also been a freelance writer with over 150 published articles on workplace related topics, style, arts, book reviews and social responsibility; in publications including India Today Group & Harmony.
Salient Features
Learning material developed by subject matter experts
Entire program divided into number of modules
Learning resources for each module is available in multiple formats of Text , presenation as well as video lecture from the expert faculty
Every module has quiz for practice and self-evalution
Certification exams through online mode
Certification
Learners scoring minimum 50% or above, get e-certificate for the program from Skill Academy.
Pay Now