Introduction
With this course you will learn, what executives look for in potential reps, and see how they utilize eDetailing to supplement traditional detailing efforts. Implement customer-centric commercial strategies to overcome access challenges, and employ key account managers to open communication channels with a universe of new healthcare decision makers.
Program Benefits
Sales of Pharmaceutical products, which may include medicines, or surgical devices, consumables of any form, machines, and equipment used in surgeries is called Pharma Sales. The target audience is doctors of any kind, chemists, and/or purchase in-charge in hospital or pharmacies.
The pharmaceutical sale is very different from regular sales of any kind right from the product to the customer to the process of selling. Of all the sales, Pharmaceutical sale is considered to be one of the most lucrative and high paying jobs and also one of the most challenging jobs requiring a lot of learnings on the salesperson's part.
What you learn
Introduction to Pharma Sales
The Pharmaceutical Product Lifecycle
Pharmaceutical Sales & Marketing Analytics
The effectiveness of Pharmaceuticals Sales
Challenges before Pharma Sales
Challenge of Product Availability for Pharmaceutical Sales
Challenges before Medical Representative of Pharma Sales
How program runs
You can join the program at any time and can access all content for 60 days. Upon enrollent, you will be able to see all modules of the program. For each module, the study material is provided in three formats, (a) presentation (b) text (c ) video lecture . Along with reading material, there is a self evaluation quiz for each module. After 30 days from the enrollement test, you are eligible to give online certification exam , normally of one hour duration. You require to get minimum 50 % to complete the program successfully. Successful candidates can download e-certificate . Candidates scoring less then 50 % or not able to appear within 60 days from the date of enrollment, can appear after paying nominal re-exam fees.
About the faculty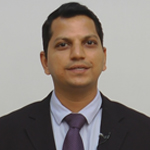 Suresh Jain is a business man who started in Mumbai and in a short period has expanded his business to the five metros of India. An MBA in Finance from Somaiya, spent over a decade in the the investment banking sector. A Passionate teacher an avid reader and a globe trotter.
Salient Features
Learning material developed by subject matter experts
Entire program divided into number of modules
Learning resources for each module is available in multiple formats of Text , presenation as well as video lecture from the expert faculty
Every module has quiz for practice and self-evalution
Certification exams through online mode
Certification
Learners scoring minimum 50% or above, get e-certificate for the program from Skill Academy.
Pay Now