Introduction
Digital marketing skills are in serious demand and the digital skills gap is set to widen, the job market is booming for these skills and brands are putting more of a focus on digital marketing than ever before. Large and small industries are increasingly moving away from conventional marketing methods and towards digital techniques. As a result, companies are hiring more. Also, you don't need a college degree for career in Digital marketing. In this course you will learn, digital marketing strategy, different internet tools, web analytics & lead generation & conversion
Program Benefits
Digital marketing is the most sought after skill for any professional, who has a role to play in marketing including branding, media, PR, communication
Employment demand for marketing specialists with digital skills is growing, with salaries above the average wage and, if you own a small business, you can save on your advertising expenditure because you'll learn how to create a digital marketing strategy that will draw in customers.
Learning current digital marketing trends can even help those who already have positions in the digital marketing world. By taking these extra courses and even renewing certifications in the field of study, they can keep relevant while at the same time opening themselves up to the possibility of higher advancement either within their company or elsewhere.
This also no doubt increases your value when it comes to employment. You can also consider the fact that this is an ever-growing field in an ever-changing world.
What you learn
Internet and Consumer Landscape
Basics of Digital Marketing
Digital Marketing Strategy
Digital Marketing Models
Internet Tools
Basics of Web Analytics & Digital Data
On Page Analytics & Tools
Off Page Analytics & Tools
Analytics for media planning, buying, programmatic buying and ROI
Social media Analytics
Lead funnel & Conversion Analysis
Analytics in Research
How program runs
You can join the program at any time and can access all content for 60 days. Upon enrollent, you will be able to see all modules of the program. For each module, the study material is provided in three formats, (a) presentation (b) text (c ) video lecture . Along with reading material, there is a self evaluation quiz for each module. After 30 days from the enrollement test, you are eligible to give online certification exam , normally of one hour duration. You require to get minimum 50 % to complete the program successfully. Successful candidates can download e-certificate . Candidates scoring less then 50 % or not able to appear within 60 days from the date of enrollment, can appear after paying nominal re-exam fees.
About the faculty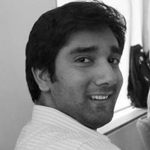 Mr. Almog Ramrajkar has a Master degree in Information Management from K. J. Somaiya Institute of Management. Leading a team of 12 digital marketers at SMG Convonix for Organic Search Initiatives. Core Interest areas include Analytics & Business understanding. In the last couple of years he has worked on scaling campaigns from US, UK & India. Some of the major campaigns that he had worked on include Taj Hotels, HCL Tech & Coke US. Led a team of Project Managers for SEO, PPC, SMO and Business Development with an extended team of 26 marketing executives and interns. Setup key processes in terms of campaign structuring, team allocation, organizational policies and leadership & Knowledge sharing.
Salient Features
Learning material developed by subject matter experts
Entire program divided into number of modules
Learning resources for each module is available in multiple formats of Text , presenation as well as video lecture from the expert faculty
Every module has quiz for practice and self-evalution
Certification exams through online mode
Certification
Learners scoring minimum 50% or above, get e-certificate for the program from Skill Academy.
Pay Now