Introduction
Business-to-business sales (B2B) is sale from one business entity to another. This type of sale is likely to be larger than a business-to-consumer sale, since the company may purchase your product for multiple sites or employees, and tends to be more financially driven, since the buyer must justify the purchase to other members of the organization. With this course you will get an in depth understanding of the various aspects of B2B Sales Management.
Program Benefits
Business-to-business (B2B) sales is a sales model that involves one business selling products or services to another business. With this course you will get an in depth understanding of the various aspects of B2B Sales Management
B2B Management course will help you understand the massive market opportunities available in Business-to-Business segment as compared to Business-to-Consumer (B2C) model . Understanding the buying habits and traits of a modern B2B buyer is a must to execute a successful sale. How you can use the research to connect and build good relationship with the clients is something really important one can learn from this course.
What you learn
Fundamentals of B2B Sales
Types of B2B customers
Sales Process
Digital Marketing Models
B2B Account & Territory Management Skills
Delighting Customers in B2B Sales
Role of E-Commerce and Social Media in B2B Sales
Buyer-Seller relationship
How program runs
You can join the program at any time and can access all content for 60 days. Upon enrollent, you will be able to see all modules of the program. For each module, the study material is provided in three formats, (a) presentation (b) text (c ) video lecture . Along with reading material, there is a self evaluation quiz for each module. After 30 days from the enrollement test, you are eligible to give online certification exam , normally of one hour duration. You require to get minimum 50 % to complete the program successfully. Successful candidates can download e-certificate . Candidates scoring less then 50 % or not able to appear within 60 days from the date of enrollment, can appear after paying nominal re-exam fees.
About the faculty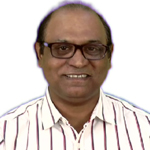 Prof. Deepak Bhattacharta is a Diligent & Result Oriented Professional dedicating to the development of Human potential offering over 25 years of progressive experience with multi- functional exposure into Sales, Branding, Marketing, CEO and Executive Career Coaching, Strategic Planning and related competitive strategies for accelerating business growth in multinational companies, Small Medium Enterprises and personal businesses.
Salient Features
Learning material developed by subject matter experts
Entire program divided into number of modules
Learning resources for each module is available in multiple formats of Text , presenation as well as video lecture from the expert faculty
Every module has quiz for practice and self-evalution
Certification exams through online mode
Certification
Learners scoring minimum 50% or above, get e-certificate for the program from Skill Academy.
Pay Now